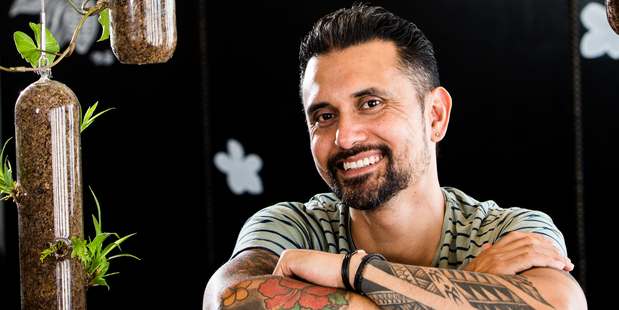 Chef Michael Meredith has recently renovated the dining room at Meredith's. Photo / Babiche Martens.
Established restaurants know full well the need to keep evolving, updating and refreshing themselves to stay relevant. Michael Meredith has turned to a tattoo artist to assist with his new look at Meredith's.
"I wanted something to reflect our deep commitment and roots to Polynesia and New Zealand so Cairo Wilson, a talented tattoo artist, hand-painted an entire wall, inspired by our native flowers and local ingredients.
And we enlisted Orb Design, who have opened the space up to reflect more of an open living-dining environment that just feels right."
We agree. The painted wall is luminescent in the evening light, hanging terrariums bring the outside in and chandeliers have been replaced by funky new lampshades to complete the make-over. It's the perfect complement to a menu that we just keep coming back to.
Meredith's is now offering champagne lunches on Fridays – they're like a delightful mini-date to get your weekend started; five-course lunch menu with a glass of Tattinger Brut NV for $65.
Bookings merediths.co.nz.